I tried hypnosis for weight loss and here's what happened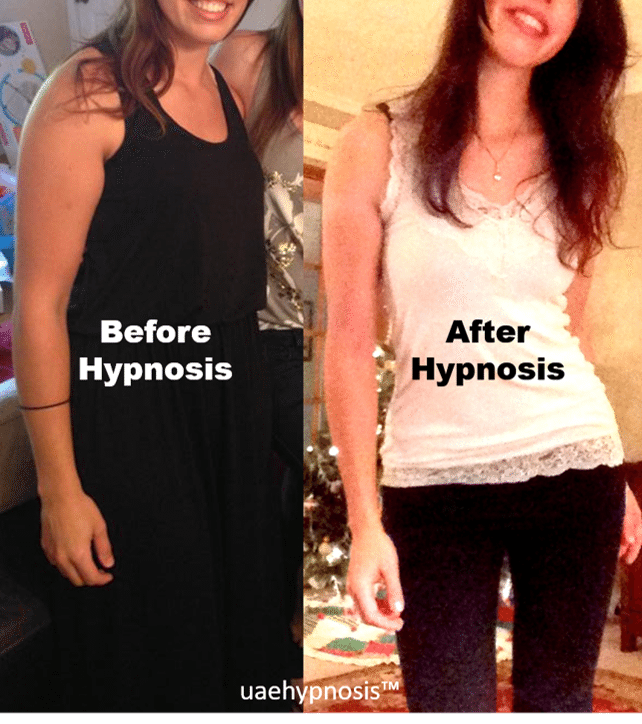 I used to put everything and everyone before me. But now I know the secret to happiness and health is having balance and implementing self-care into my daily routine. Hypnosis taught me to take care of me and all those around me in a more efficient way.  
In 2016, I gave birth to my baby girl that left me with some residual weight (I write this now in 2018). My arms, face and stomach were looking bloated and I felt uncomfortable and depressed in my own body. I had a few hypnotherapy sessions at UAE Hypnosis to help me lose the weight fast, I just couldn't take it anymore. not only did I lose some weight, but I began to see the world differently. The whole hypnosis experience gave me an uplifting, more positive perspective on life. Besides losing weight, I have more confidence and energy and feel inspired to try new things. 
Losing weight is a combination of physical, mental and spiritual practice.
Today most people recognize that diet and exercise play an important role in an individual's ability to lose weight fast. However, there is a lot of misinformation about why people are overweight. Most people believe that being overweight has everything to do with the calories being consumed and burned. Although diet and exercise are incredibly important they alone are not the answer. Luckily, there are a few wise souls out there who have figured out the secret to weight loss. What's the secret? Losing weight is a combination of physical, mental and spiritual practice. 
I heard about the popular hypnotherapy clinic in Dubai from an interview on CCTV. They were talking about hypnotherapy and the success rate for those looking to quit smoking. I wondered if hypnosis could help with weight loss. So I called the center and set up a consultation.
However, as much as I wanted to slim down, I also had to face the fact that I had a demanding life. Time was of the essence. I did not have a lot of hours to travel back and forth to a clinic building, my job, deal with parking and traffic and be home for my baby and husband.
My Real Life Hypnotherapy Experience
I decided to go through with the consultation. I drove to the clinic in Dubai and was greeted by the therapist who shook my hand with a calm and peaceful energy. The room was well lit and I had a beautiful view of the city. I felt safe and after talking with him for only a few minutes I knew I was in good hands. I was invited to sit in a comfortable recliner and talk about myself and why I was seeking help with hypnosis. After about an hour of conversation, I learned how hypnosis works. The therapist explained the science of hypnosis, self-hypnosis and how the mind body connection works. I asked all my questions like, can I get stuck in hypnosis? Or, will I do anything embarrassing? Or, will I tell you things I don't want to reveal? The answer to all of those questions by the way is, no. Unfortunately, Hollywood has glamorized the hypnosis industry into being mystical and manipulating. In reality hypnosis is extremely therapeutic and healing. Along the lines of meditation, yoga, and mindfulness. Hypnotherapy allows people to connect to their higher self, find answers to lifelong questions and gain motivation, energy and vitality for life.
The therapist shook my hand with a calm and peaceful energy. The room was well lit and I had a beautiful view of the city. I felt safe and after talking with him for only a few minutes I knew I was in good hands.
After our discussion, I received a short hypnosis session so I could experience what it felt like. Feeling relaxed and at ease, I was convinced I needed to have hypnosis sessions not only to lose weight, but to calm my anxiety and stress as well. I literally felt the weight lift off my body!
However, I had only one issue. I could not get to the clinic office before closing hours due to the demands of my job working at the hospital. The next day I called the clinic and asked if there was an alternative way to way to hold the session. Perhaps the therapist could extend his office hours or he could do a house call? He suggested we work online from home. I was skeptical to say the least, but I trusted him and wanted to see if it would work, so I gave it a try.
I had the nanny care for the baby and my husband left for the gym. I went into our guest room and set up my laptop on the night stand next to our big comfortable chair. The clinic sent me a link to connect to the session in my email and instantly my therapist was there, on my computer talking with me.  We chatted for a few minutes and I immediately felt the connection I had with him in the office. He explained to me that our energy field breaks the boundaries of time and space and that there really is no magic to him being in the same room. In fact he conducts healing sessions worldwide not just for people in Dubai and Abu Dhabi.
Snuggled into my chair I put my headphones on and listened to the instructions of my therapist. He guided me into a peaceful hypnotic state, or what I like to call my "happy place." From there he asked me a series of questions that helped me to understand why my weight was not coming off. There was a reason I was holding onto the weight that I wanted to release. I learned our bodies are a physical expression of what we hold deep inside of us. The beliefs and thoughts I held in my subconscious mind were creating the body I had. I needed to change my beliefs and thoughts to change the way my body looked. With my therapists help I felt so much better and more inspired.
I was hooked and I decided to continue. After only 4 sessions I lost weight and gained a new insight on life. The one thing that stood out the most was how in touch my therapist was. If I had a question during the day I was able to email him and he got back to me right away. If I needed some inspiration he was there. I really felt cared for and safe.
Some things people might wonder is how long will it take to lose weight with hypnosis. I was able to lose 5 kilos in about a month. I did one 90 minute hypnosis session a week for a month. For me this seemed like a good steady pace for weight loss. Besides, the therapist explained that losing too much weight too fast can be unhealthy. Another thing people often ask me is, what did hypnosis feel like? For me hypnosis was very relaxing. I didn't feel an out of body experience but I did feel an exceptional state of awareness. I felt very connected to a source of energy that I don't normally feel connected to during the day. My mind was able to relax enough were I was able to have those "aha" moments that you hear everyone talking about.
The night after a hypnosis session were the nights I slept the best. The mornings after my hypnosis sessions were the days I felt deeply inspired, creative and happy. People at work even noticed that I was a bit more cheerful. Because I started to relax my mind and release my anxieties even my baby slept better and was less fussy during the night. I can say without a doubt that hypnotherapy is something everyone should experience. It gives you a new outlook on life and brings back that childlike inspiration to go conquer your dreams with energy and confidence.
For those looking to lose weight, I must recommend UAE Hypnosis. They offer an integrative hypnosis program that is effective and safe. They outline a customized plan for successful weight loss and introduce you to a new treatment to lose weight naturally without pills, surgery or medication. You will experience a unique approach to weight loss focusing on transforming behaviors and beliefs to create a healthier life.
I learned that when you work with hypnosis you go to a part of the mind where issues take root. Once you are connected to this subconscious and superconscious part of you, you can easily let go of excess weight. People usually gain weight for reasons they are consciously unaware of. You see from a different perspective how the weight got there in the first place. You understand why you might eat late at night, or why you crave chocolate and burgers.
I learned to program my mind for healthy habits. I now regularly enjoy reading, yoga, jogging and eating healthy. Before hypnosis I would always find excuses to avoid the gym and eat foods that were more comforting than nutritious.
Now that I have reached my weight loss goal. I'm curious to see what else I can achieve with hypnosis. It seems like the possibilities are endless and I'm excited to see where my mind will take me.
REACH YOUR WEIGHT LOSS GOALS
REQUEST A CONSULTATION TODAY
Find out how hypnotherapy can help you.